10 Shocking Creepfests at the 2022 Sundance Film Festival
January 24, 2022 by Nick Nadel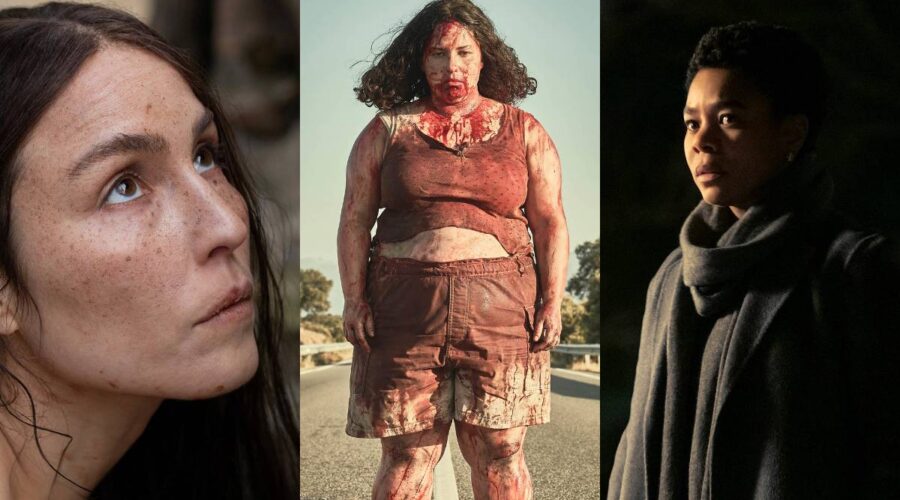 A wintry chill is in the air, but at the Sundance Film Festival, it feels a lot like Halloween. The past few years have seen The Babadook, Hereditary, The Witch, and many more acclaimed horror films escape from the high altitudes of Park City, Utah. This year's virtual fest features a new crop of thrillers and chillers by skilled filmmakers looking to become the next Ari Aster or Jennifer Kent. 
Dim the lights, pull out the Ouija board, and read on to discover some creepy horror films scaring up buzz at the 2022 Sundance Film Festival. 
Hatching 
Director Hanna Bergholm offers up a haunting metaphor for motherhood in this tale of a young gymnast named Tinja who struggles to please her social media-obsessed mother while caring for a newfound giant egg. When the egg hatches and reveals a freakish bird-like creature, Tinja must balance the demands of her controlling mother while hiding the monster in her bedroom that's gradually developing a taste for blood. Critics are praising this inventive twist on the monster flick, which features old-fashioned animatronic special effects from a designer of Star Wars and Jurassic Park films. IFC Midnight scooped up Hatching and plans to (pardon the pun) lay this Finnish horror fable on audiences later this year. 
You Won't Be Alone
Fans of films like The Witch and Lamb will be entranced by this lyrical horror tale from writer/ director Goran Stolevski. In a remote mountain village in 19th century Macedonia, a young girl is kidnapped and turned into a witch by a malevolent spirit. The young witch (played by Noomi Rapace and other actors) assumes the form of various people, blending in among villagers while being haunted by a monstrous being. With stunning cinematography that captures the horrors of the natural and unnatural world, You Won't Be Alone will put a spell on horrorheads when Focus Features unleashes it in theaters on April 1st.
Speak No Evil
In good news for fans of thrillers where vacations go horribly wrong, AMC Networks' Shudder has acquired Christian Tafdrup's psychological thriller Speak No Evil for release later this year. After two families meet while on holiday in Tuscany, they reunite in the Dutch countryside for a seemingly idyllic getaway. But as the free-spirited hosts test the limits of their more conservative guests, friendly facades drop and something sinister starts to be revealed. It's a chilling tale of what happens when families stop being polite… and start getting really creepy. 
Resurrection
Rebecca Hall made quite an impact at last year's Sundance Film Festival with her star turn in the eerie horror chamber piece The Night House. Will history repeat itself with her role as a hardworking mother haunted by the return of a man from her past in Resurrection? Tim Roth, an expert at playing characters with devious agendas, is the man who has resurfaced in Hall's life looking to settle some unfinished business. With two great actors going head-to-head in psychological thriller mode, writer-director Andrew Semans' nail-biter is poised for a festival breakout. 
Watcher 
Maika Monroe (It Follows) further solidifies her scream queen status with this psychological thriller that is drawing comparisons to the work of Alfred Hitchock and Roman Polanski. Monroe stars as a young American woman who moves to Romania and is tormented by the feeling that she is being watched by an unseen man in a nearby building. Her sense of dread intensifies when she believes she's being stalked in public by the mysterious watcher. Filmmaker Chloe Okuno (V/H/S/94) drew from Rosemary's Baby, Rear Window, Se7en, and more classic thrillers to create a suffocating atmosphere of paranoia and fear. 
Piggy
Writer/director Carlota Pereda's bloody thriller juxtaposes the horrors of being a teenage girl with horror of the life or death variety. Sara, a bullied teenager in a rural Spanish town, finds an unlikely ally in a mysterious stranger who kidnaps her tormentors. As the police search for the missing girls, Sara must wrestle with telling the truth and protecting the man who helped to end her suffering. Pereda's brutal morality tale shows that the emotional violence of bullying can be just as potent as the kind perpetuated by monsters lurking in the shadows.
Something in the Dirt 
Filmmakers Aaron Moorhead and Justin Benson (Synchronic, The Endless) have gained a cult following for their DIY trippy SciFi/horror mindbenders. (Marvel also took notice, tapping the duo to direct the upcoming Moon Knight series.) Now they've come to Sundance with their latest Lo-Fi film, in which they also star as a pair of neighbors who attempt to document a supernatural occurrence and further their careers. Made amidst the pandemic with a small crew in the filmmakers' own apartments, Something in the Dirt continues Moorhead and Benson's scrappy, everything and the literal kitchen sink approach to genre filmmaking. 
Master 
With roles in the horror film Master and the rollicking comedy Honk For Jesus, Save Your Soul, Regina Hall is poised to be the breakout star of Sundance 2022. In Master, Hall plays a dean at a prestigious university in a story that follows three women as they navigate the racial politics of higher education while also being confronted with spine-tingling manifestations of the school's past. Amazon is releasing writer/director Mariama Diallo's debut feature that is garnering comparisons to Get Out for the way it combines horror tropes with a bracing examination of America's complicated legacy of violence and oppression.
Fresh
Following the red hot debut of Fresh at Sundance, Mimi Cave's tartly written horror comedy is drawing comparisons to unnerving feminist thrillers like Promising Young Woman and The Invisible Man. The classic romantic comedy "meet cute" scenario takes a twisted turn after Noa (Daisy Edgar-Jones) ditches dating apps in favor of going out with Steve (Sebastian Stan), a random guy she meets at the grocery store. Proving that dating truly is hell, their seemingly normal relationship is strained when Steve's disturbing appetites are revealed. Buzz is building for this horror-rom with bite, which is set to premiere on Hulu on March 4th.
Nanny 
The demoralizing effects of white privilege is an undercurrent in Nikyatu Jusu's supernatural horror film about Aisha (Anna Diop), a Senegalese immigrant who takes a job as a nanny for a wealthy family. While dealing with her difficult employers and struggling to bring her own child to America, Aisha begins to be haunted by violent otherworldly spirits. Diop's performance as Aisha has been praised in a film that combines West African folklore with modern domestic horror.