10 Sundance 2021 Movies That Demonstrate the Importance of Family
January 22, 2021 by Nick Nadel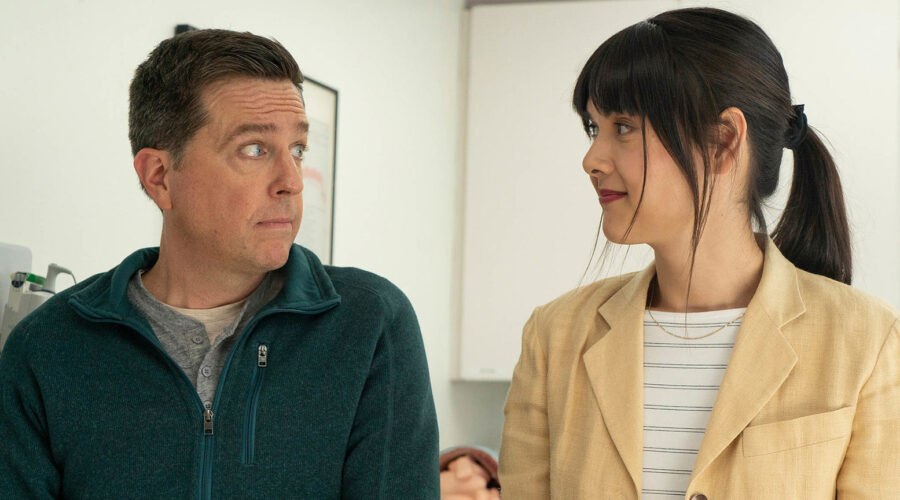 As the 2021 Sundance Film Festival adapts to reflect the "new normal," a good number of films hitting the fest are particularly of the moment in their themes of families going through stressful situations. Whether it's tales of families in crisis, or a comedy that finds connection between two seemingly different people, the feature films and documentaries at this year's Sundance Film Festival speak to our universal need for hearth and home during trying times in whatever form it may take. Plus, there's a movie about a kid who puts his family in a hole. Hey, it wouldn't be Sundance without films that think outside the box (or the hole).
Read on for a look at the buzzworthy films hitting the 2021 Sundance Film Festival that demonstrate the undeniable importance of family during periods of adversity.
Together Together 
Ed Helms and Patti Harrison star in this comedy about the unexpected relationship that blossoms between a single man in his 40s and the young loner he hires as his surrogate. Presenting a modern look at family, the film explores two strangers connecting through a shared experience. Tig Notaro, Julio Torres and Anna Konkle round out the eclectic cast of comedic talent.
John and the Hole
This coming-of-age psychological thriller depicts the unsettling reality of John, a boy who holds his family captive inside a hole in the ground. Charlie Shotwell (The Nest) plays the titular John, while Jennifer Ehle, Michael C. Hall and Tassia Farmiga are among the cast. Visual artist Pascual Sisto is in the director's chair of this dark drama, which has a script penned by Birdman or (The Unexpected Virtue of Ignorance) cowriter Nicolás Giacobone.
I Was a Simple Man
Constance Wu (Crazy Rich Asians) is among the cast of this tale of a family in Hawai'i facing the impending death of their eldest member and the ghosts of the past that haunt the countryside. Writer/director Christopher Makoto Yogi's drama is garnering positive word of mouth for its haunting story told through the perspective of an elderly man in the twilight of his years.
CODA
In this buzzy drama from screenwriter/director Siân Heder (Tallulah), Emilia Jones plays Rudy, the only hearing person in her deaf family. With the fate of her family's fishing business in jeopardy, Rudy is caught between her love of music and her obligations to her parents. Eugenio Derbez and Marlee Matlin also star in this remake of the French film La Famille Bélier.
Users
The dehumanizing effects of technology are explored in this visual essay documentary from filmmaker Natalia Almada. A mother wonders if her children will love their machines more than they love their imperfect mother. Is the smart-crib lulling her crying baby to sleep the "perfect mother"?
El Planeta
Set amidst the devastation of post-crisis Spain, El Planeta follows a mother and daughter as they scheme and grift to keep up the lifestyle they believe they're entitled to. This timely drama from writer/director Amalia Ulman (who also stars in the film) looks at the bonds that form between the duo as they face a shared tragedy and an impending eviction.
Human Factors
A family is rocked to its core by a home invasion in this searing drama from writer/director Ronny Trocker (The Eremites). When a married couple in crisis takes a family vacation, a mysterious burglary throws their seemingly comfortable lives out of balance. As the family's agony bubbles to the surface, the story unfolds through narrative loops and shifting lenses to create a visually unique depiction of a family in freefall.
Luzzu 
Writer/director Alex Camilleri is behind this story of a struggling fisherman on the island of Malta forced to make difficult decisions to provide for his girlfriend and newborn baby. In order to take care of his family, Jesmark (played by Jesmark Scicluna) turns his back on tradition and puts everything on the line as he enters the black market fishing industry. A stark, neorealist depiction of a fishing community, Luzzu tackles themes of climate change and sustainable fishing amidst its story of a man trying to do right by his family.
Coming Home In the Dark 
A family outing on an isolated coastline takes a turn for the terrifying in this thriller from director James Ashcroft. When a teacher, his wife and stepsons encounter a pair of drifters, the family vacation descends into a nightmarish battle for survival after they find themselves held captive. The gritty thriller from New Zealand is one of several standout horror flicks at this year's festival.
Fire In the Mountains 
Debut feature director/screenwriter Ajitpal Singh tells the story of a mother struggling to save money to build a road in a Himalayan village in order to take her wheelchair-bound son for physiotherapy. Her quest is complicated when her husband, who believes that an expensive religious ritual is the solution, steals her savings. The film's themes of feminism and contrasts between the urban and rural communities in India have earned Fire In the Mountains early raves.
Check out some of the biggest films from past Sundance Film Festivals on AMC+. like The Babadook, The Black Power Mix Tape, Mandy and more.