15 Films Already Getting Buzz at the 2020 Sundance Film Festival
January 23, 2020 by Nick Nadel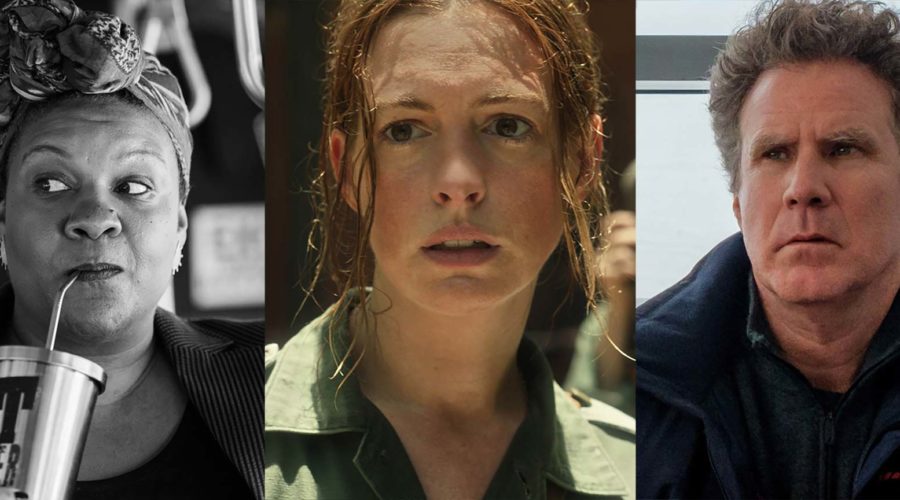 A bumper crop of buzz-worthy dramas, comedies, thrillers, horror flicks, documentaries and more are about to hit the 2020 Sundance Film Festival, taking place in Park City, Utah from January 23rd to February 2nd. Last year's fest produced box office and critical darlings The Farewell, Honey Boy and Brittany Runs a Marathon. Will this year's batch break big… or wilt away outside of the rarefied Sundance air? Read on for a look at the searing documentaries, intense dramas, spine-tingling screamers and more that are coming in hot to the 2020 Sundance Film Festival.
Taylor Swift: Miss Americana
This intimate documentary from Emmy-winning director Lana Wilson could do for Taylor Swift what Homecoming did for Beyoncé — offer a no-holds-barred look at the creative and personal development of one of the most iconic pop stars of our time. The revealing doc hits Sundance on January 23rd ahead of its premiere on Netflix.
The Last Thing He Wanted
Sundance favorite Dee Rees (Mudbound) returns to the fest with a star-studded adaptation of Joan Didion's novel about a journalist (Anne Hathaway) who gets involved in her father's (Willem Dafoe) arms dealings in Central America. Ben Affleck, Toby Jones and Rosie Perez also star in this political thriller set amidst the 1980s Central American Contra affair.
Shirley
Filmmaker Josephine Decker (Madeline's Madeline) returns to Sundance with an offbeat biopic about famed horror author Shirley Jackson. Elisabeth Moss plays the writer of The Lottery and The Haunting of Hill House, who draws inspiration from a young couple who comes to live with her and husband, Stanley Hyman (Michael Stuhlbarg).
Downhill
The comedic dynamic duo of Will Ferrell and Julia Louis-Dreyfus star in this Americanized version of the dark Swedish dramedy Force Majeure. Ferrell plays the dad who has to face his wife (Louis-Dreyfus) and kids after seemingly abandoning them during an avalanche that occurs on their family ski trip. Filmmakers Jim Rash and Nat Faxon (The Way Way Back) are behind this comedy that premieres at Sundance ahead of its theatrical release in February.
The Go-Go's
Belinda Carlisle, Jane Wiedlin and other members of The Go-Go's dish on the drug-fueled early days of the iconic band behind hits like "Vacation" and "Our Lips Are Sealed." Filmmaker Alison Ellwood's documentary digs into the band members' in-fighting and substance abuse issues, while also covering the persistence and talent that made The Go-Go's one of pop music's most influential groups.
Promising Young Woman
Filmmaker Emerald Fennell scored an Emmy nomination for her work on Killing Eve, and her script for Promising Young Woman made the 2018 Black List. So it's no surprise that Carey Mulligan is already earning raves for her intense performance in Fennell's topical thriller, about a seemingly normal woman who delivers harsh vengeance to men as a way of dealing with her past trauma.
Wendy
Beasts of the Southern Wild director Benh Zeitlin returns to Sundance with a lyrical take on the Peter Pan story featuring a cast of young actors set against a breathtaking backdrop. Zeitlin's knack for drawing naturalistic performances from kids helped make Beasts a 2012 U.S. Dramatic Grand Jury Prize winner, and Wendy looks to be equal parts heartbreaking and visually stunning.
Zola
Cowriter/director Janicza Bravo's (Lemon) new drama holds the distinction of being the first film at Sundance to be based on a viral Twitter thread. Taylour Paige and Riley Keough star in the film adaptation of Aziah "Zola" King's #epic Twitter tale of a wild road trip involving strippers, a Nigerian pimp and murder.
Crip Camp
Documentarians Nicole Newnham and Jim LeBrecht spotlight Camp Jened, a camp that LeBrecht attended which sparked a revolution for persons with disabilities. Located down the road from Woodstock, the camp inspired its alums to participate in protests that led to the Americans with Disabilities Act.
Welcome to Chechnya
David France, the filmmaker behind the Oscar-nominated 2012 Sundance doc How to Survive a Plague, shines a light on a group of activists who risk their lives to confront the ongoing anti-LGBTQ policies in Chechnya.
Never Rarely Sometimes Always
Writer/director Eliza Hittman won the 2017 directing award at Sundance for the acclaimed film Beach Rats, and her follow-up also offers a raw, unfiltered look at teenagers. Talia Ryder, Sidney Flanigan and singer/songwriter Sharon Van Etten are among the cast in this story about a Pennsylvania teen facing an unintended pregnancy who travels to New York City with her cousin.
Possessor
For the follow-up to his eerie debut Antiviral, writer/director Brandon Cronenberg taps into a similar vein of unsettling body horror that his father, David Cronenberg, brought to classics like The Fly and Dead Ringers. Andrea Riseborough, Sean Bean and Jennifer Jason Leigh (who starred in the cult Cronenberg classic Existenz) are among the cast in this very Cronenbergian sci-fi thriller about a corporate agent who uses brain-implant technology to inhabit people's bodies and turn them into soulless killing machines.
Bad Hair
Justin Simien, the filmmaker behind the Sundance sensation Dear White People, returns to the fest with a horror-comedy set in 1989 Los Angeles. Vanessa Williams and Lena Waithe are among the cast in this dark satire about a woman whose new hairstyle scores her a dream job at a music video TV show… at a terrible cost.
The Nowhere Inn
When Annie Clark enlists her fellow musician and pal Carrie Brownstein to make a documentary about her musical persona St. Vincent, fact and fiction meld in a meta docu-narrative that takes a scathing look at fame and music in 2020. Fans of the duo's music and Brownstein's sketch show Portlandia will get a backstage pass in this riff on warts-and-all music docs.
The 40-Year-Old Version
She's Gotta Have It and Empire scribe Radha Blank steps in front of the camera for her debut film as a writer/director. Produced by Lena Waithe, Blank plays a struggling playwright who decides to attempt a rap career at age 40.
Sign up for the SundanceTV Newsletter to keep up with all the latest updates from the SundanceTV HQ at the 2020 Sundance Film Festival.